I was in search of a tasty dinner that was anything but chicken. We enjoy eating meat, but I didn't want the average piece of grilled steak. Plus, we wanted to introduce meat to our son and needed something to give him that was soft enough for him to chew [gum] and digest. That's when we landed on pot roast! With a little recipe help and guidance from my mom, this meal was a touchdown.
Make this to serve a meat and potatoes lover and it's perfect to freeze for future meal prep. I even stored smaller portions to thaw for baby for an easy meal on the go. Oh, and this recipe is sure to impress any bubbie…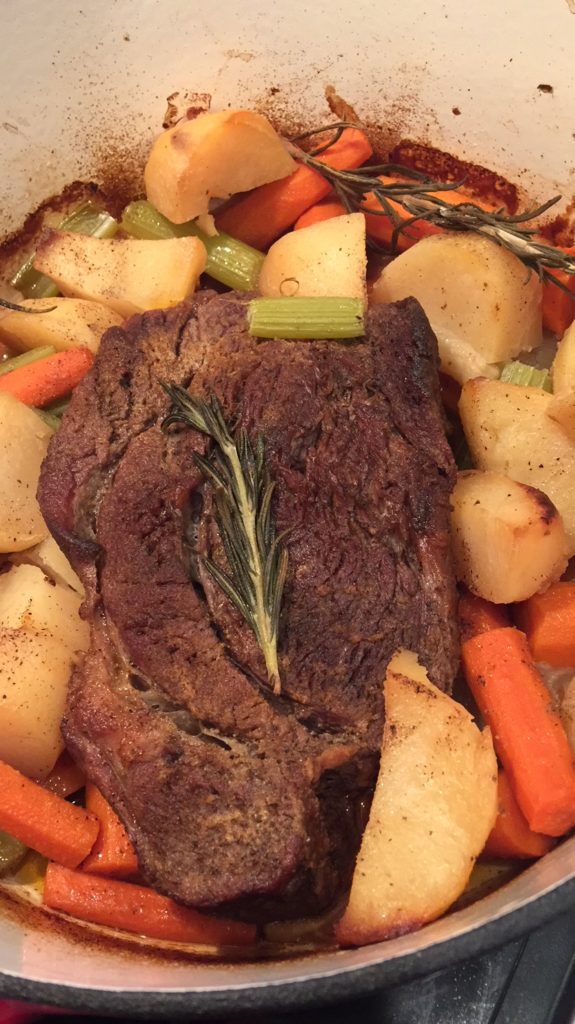 Ingredients:
Two pounds of meat, ask your butcher for chuck roast
6 whole carrots, peeled and cut into two-inch bites. (Fresh carrots are better for you and sweeter!)
2 potatoes, skin on, scrubbed clean. Dice into large chunks
1 onion, cut into quarters
1 sprig of rosemary
1/2 cup chicken broth
2 TB olive oil
Seasoning for meat: salt, pepper, garlic powder, paprika (all eyeballed measurements – you got this!)
Directions:
First, begin by taking your meat out of the fridge. Place on a large plate and season with the above seasoning. Make sure to sprinkle and dust all sides of the meat. Set the meat aside and prep all your vegetables.
You can ideally use any large, oven safe pot with a lid for this recipe, but I use a dutch oven and I can only tell you that this is one of my favorite kitchen items to own.
Take the pot and put it on the stove. On medium heat, add the oil and lightly sear the meat on all sides. About two minutes each side, or until meat is lightly browned. Once that's done, sprinkle your vegetables and chicken broth around the meat. Top with the sprig of rosemary and place in a 350-degree oven for three hours with the lid on. Be sure to check the meat after two hours to ensure it is not burning. It's not going to burn, but it's always nice to pay attention to the meat.
Before going into the oven: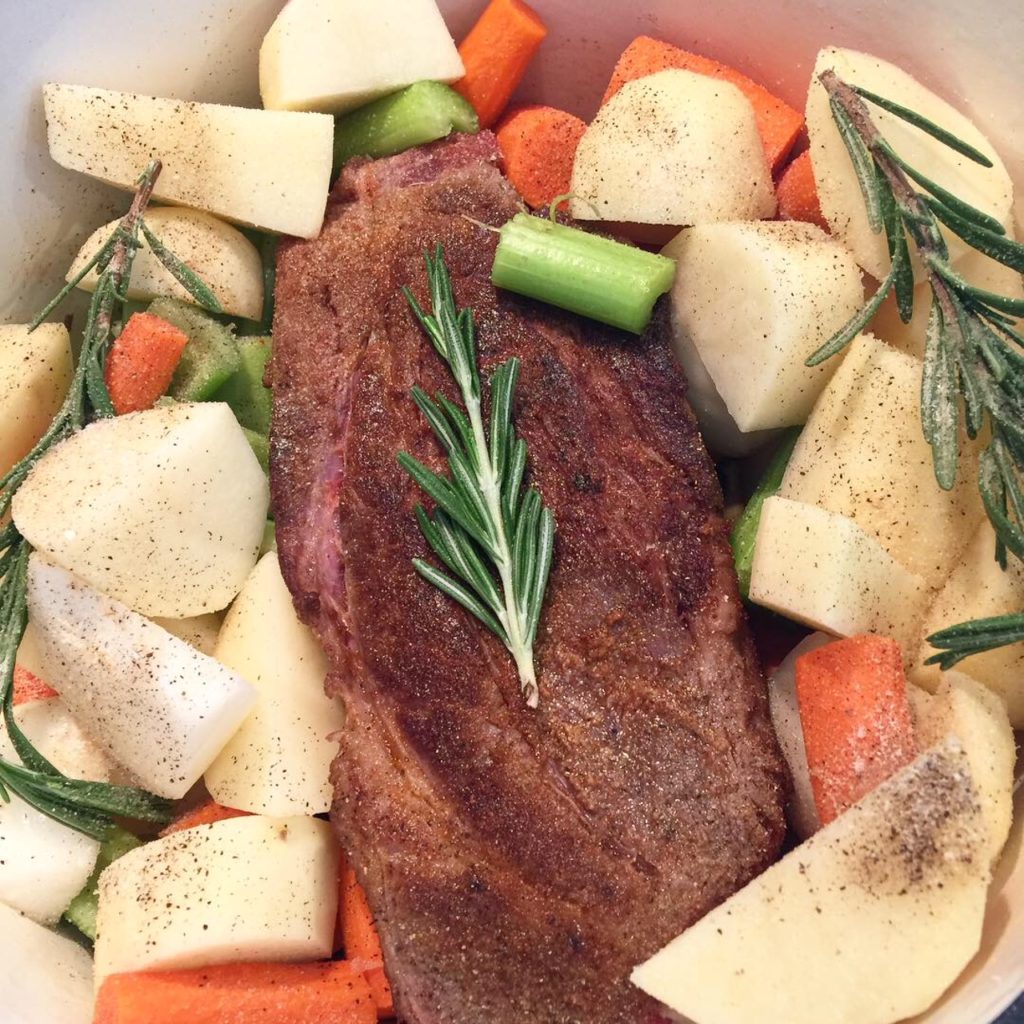 Once the meat is done cooking, remove from the oven, leave the lid in place and allow it to sit for 30 minutes before serving. This is best served with either rice or cauliflower rice, which is what I did.