This Shrimp & Corn Chowder was an accidental recipe I created and discovered one busy afternoon. It all started when I realized that I had all these fresh ingredients in the house, but felt I needed inspiration – mind you, I have an infant in the background, so some tears (of his) went into creating this dish.
I made this for dinner and froze two containers to have on hand for a busy day on the go, or for those nights when my little one won't let me exercise my creativity  in the kitchen!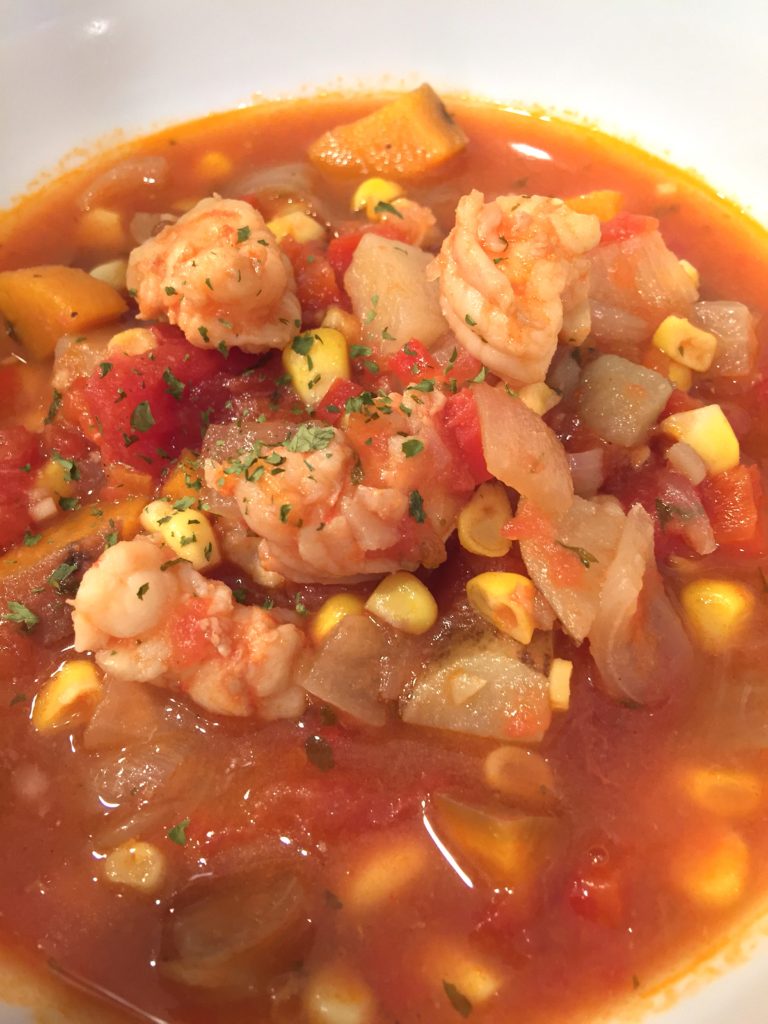 Ingredients:
1 large garlic clove, minced
1 onion, chopped into chunks
1 red pepper, diced into small chunks
1 sweet potato, diced into bitesized pieces
1 regular potato, also diced into bitesized pieces
2 husks of corn, fresh
2 14-ounce cans of diced tomatoes
2.5 cups low-sodium chicken broth
1.5 lb shrimp, peeled & deveined
1 tsp Paprika
1 tsp Salt
1 tsp Pepper
1 tsp Onion powder
1/4 tsp Cayenne
1 tsp Dried Parsley
1 TB olive oil
If you're a mommy like me, you might want to prep this while the little one naps, but I live on the wild side, so my little guy was in the background the whole time I prepped this. First, dice the onion and mince the garlic, and add to a large soup pot with olive oil and sauté on medium heat until the onions become translucent. Next, dice up the potatoes into bite size pieces, skin on (optional – but, it's a time saver). Add the potatoes to the pot and and sauté for two minutes. Now, add the whole contents of the canned tomatoes. Next, season with the above spices and herbs, and let the chowder simmer for 20 minutes on low-medium heat.
While that's simmering, carefully remove the corn off the husks and cut directly into a bowl so that it captures all the corn and it's milky liquid. Once the chowder has been simmering for 20 minutes, add the corn and the liquid you collected. You can use frozen corn, but fresh corn off the husk gives the chowder such a natural sweetness and creaminess! Now, simmer for another five minutes. While that's simmering, take your peeled and deveined shrimp and chop into large chunks. NOTE: you can also use steamed shrimp from the store to save you a step… And yes, I lived on the edge that day and peeled and deveined all my shrimp while the baby was awake!
Add the shrimp to the pot, stir, and adjust the heat to low. Allow the chowder to simmer for ten minutes. Then, you can turn heat off and let it sit in the pot for another 15 or so before serving.