Grilled Artichokes are the perfect appetizer for any Summer BBQ or gathering. They're perfectly portioned and give you a good reason to eat with your hands! Not only are the ingredients fresh, they are super simple and make for a delicious appetizer.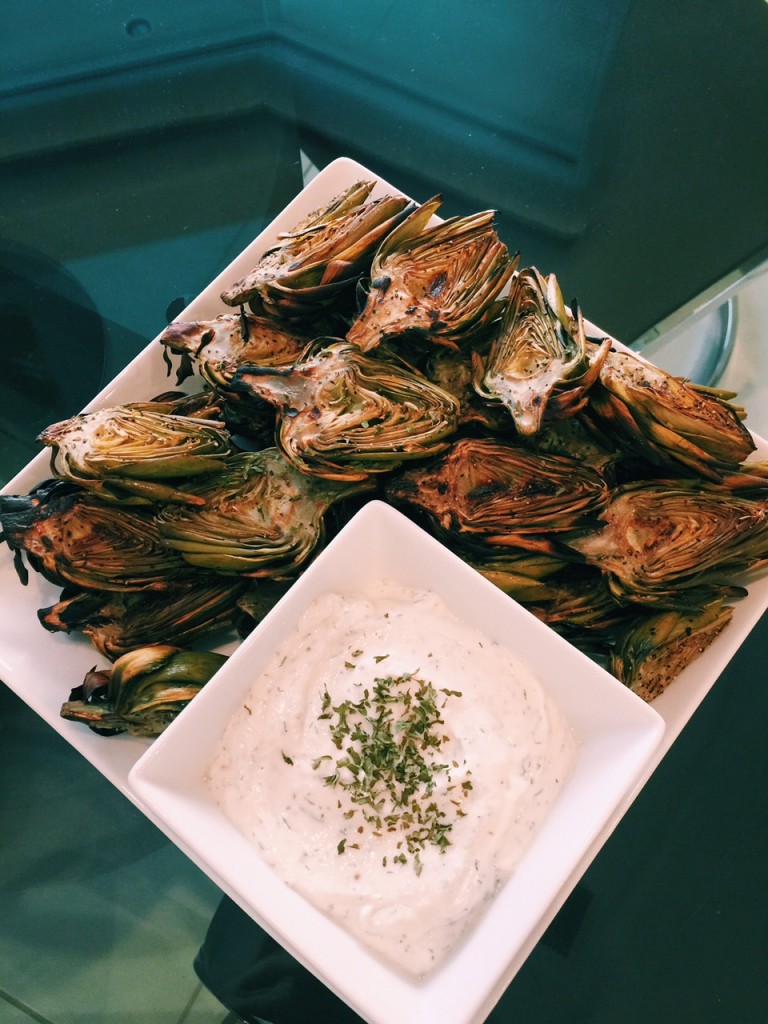 Ingredients for Artichokes:
1 Package of Small Artichokes
1 Lemon
Evoo
Kosher Salt & Pepper to taste
Ingredients for Creamy Dipping Sauce:
½ Cup Fat Free Fage Greek Yogurt
½ Cup Reduced Fat Breakstone Sour Cream
1 ½ tsp. Garlic Powder
½ tsp. Onion Powder
1 tsp. Dried Dill
½ Lemon
1 TB Grey Poupon Dijon Mustard
½ tsp. Salt
½ tsp. Pepper
Dried Parsley as a garnish
Before prepping the artichokes bring a large pot to boil. Now, begin prepping the artichokes by washing them well, and then cut each one in half. Once the water begins to boil, squeeze the juice of one lemon into the water and add the lemon to the water. Place the artichokes into the boiling water and boil on medium heat for 10 minutes.


After the artichokes have boiled, strain them in a colander and allow them to cool. While they are cooling, place them on a large baking sheet face up. In a small bowl, add some EVOO and use a brush to coat the artichokes with the oil. After brushing the oil on the artichokes, sprinkle generously with kosher salt and pepper.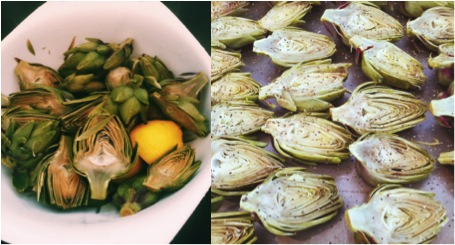 Once the artichokes are seasoned, they are ready to go on the grill. Adjust the heat to medium and place the artichokes face down on the grill, or seasoned side down, and let them grill for ten minutes.
While the artichokes are grilling, make the dipping sauce by placing all the ingredients in a bowl and mix until combined, and add some dried parsley on the top as a garnish. Place the sauce in the fridge to chill while the artichokes are grilling
After ten minutes of grilling, the artichokes are ready to be flipped. Grill them on the other side for another five minutes.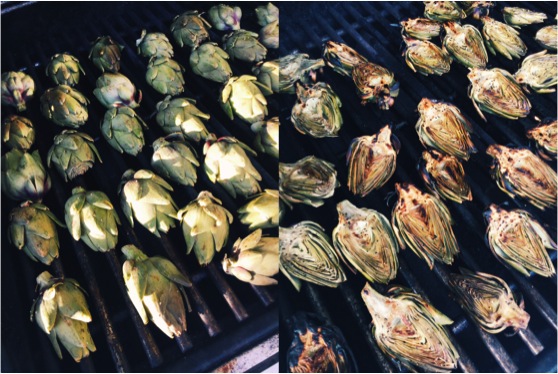 After they are finished grilling, plate them with the sauce and let them cool for five minutes before serving. They are best served when not scorching hot.
Once they're ready to be enjoyed, keep a side bowl handy for the leaves and enjoy!