I love making soups, and this Chicken Tortilla Soup is delicious, and guilt free… In fact, no tortillas go into it! This healthy version is full of flavor, nutrients from all of the vegetables and packed with protein from the chicken and beans.
I made a batch of this and froze single containers, making it a perfect easy and go-to meal on the go available at your fingertips!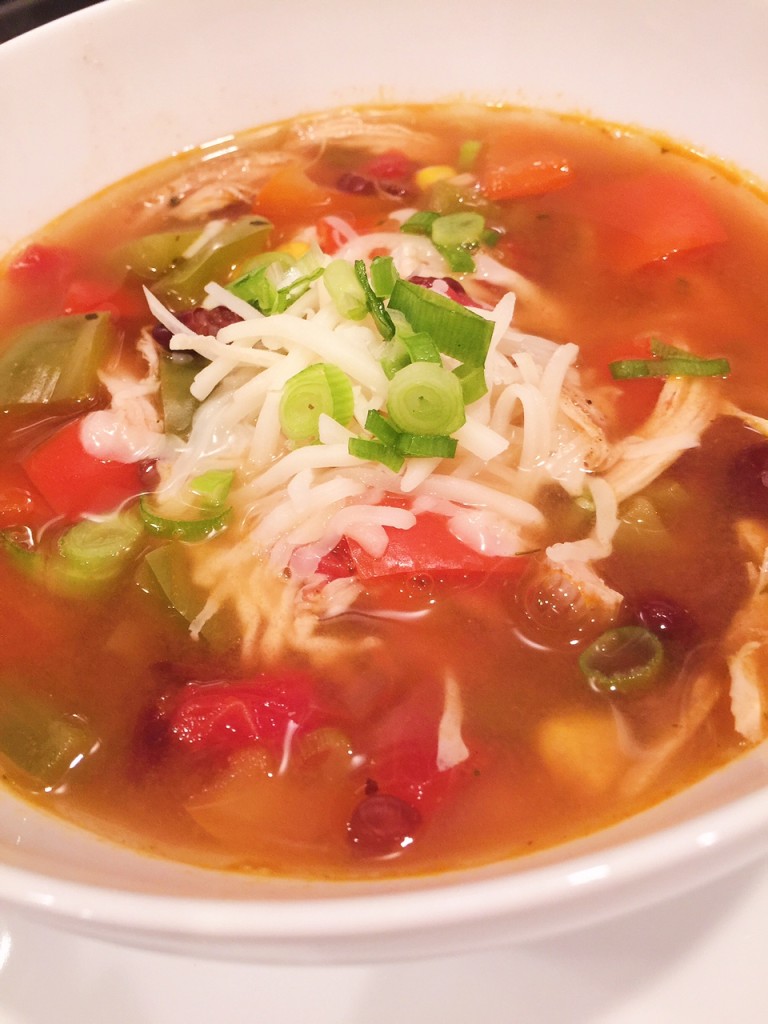 Ingredients:
3 Chicken Breasts, bone in
1 TB EVOO
2 Garlic Cloves
2 Green Peppers
1 Red Pepper
½ Cup Green Onion
3 32 oz. Cartons of Low-Sodium, 99% Fat Free Chicken Broth
1 14.5 oz. Can Diced Tomatoes
1 15.25 oz. Can Black Beans
1 4 oz. Can of Green Chiles
1 10 oz. Bag of Frozen Corn
1 TB Cumin
½ tsp. Onion Powder
1 TB Dried Cilantro
¼ tsp. Dried Oregano
1 tsp. Salt
1 tsp. Black Pepper
2 TB Hot Sauce
Juice of 1 Lime
Directions:
The first step to making the soup is to roast the chicken in the oven. Roasting the chicken creates added flavor and makes for great texture since you can shred the chicken to later add to the soup.
Take the chicken breasts and lightly rub them with EVOO. Without measuring the herbs and spices, sprinkle the breasts with the following: salt, pepper, garlic powder, onion powder, chili powder, cumin, dried oregano and dried cilantro.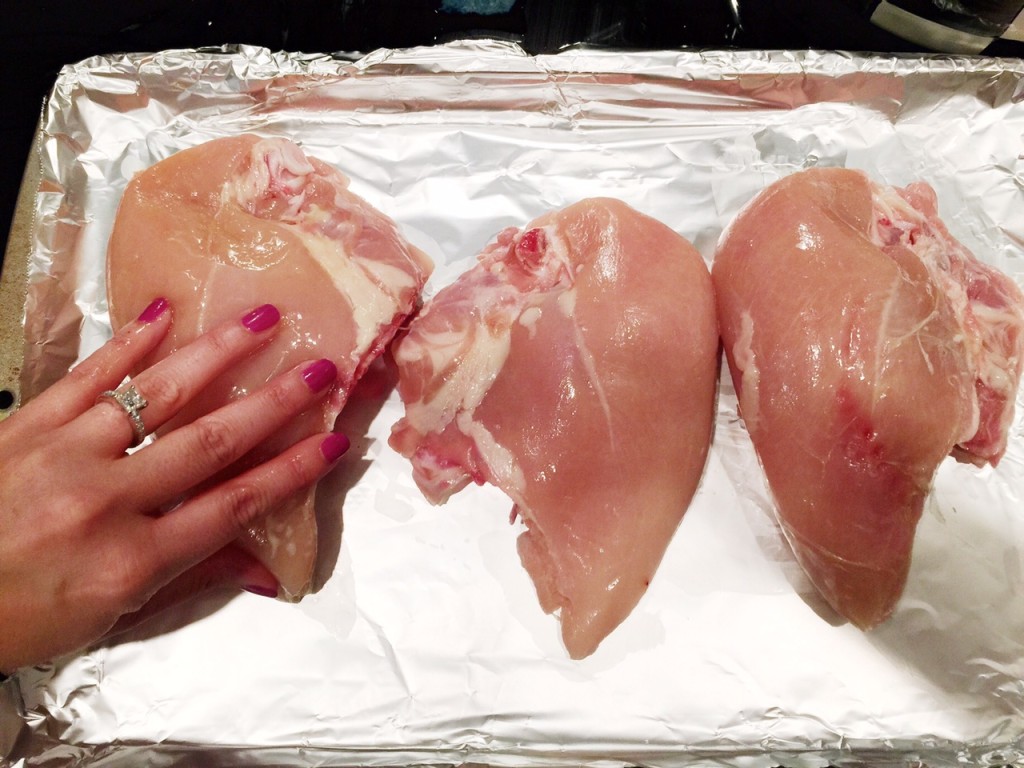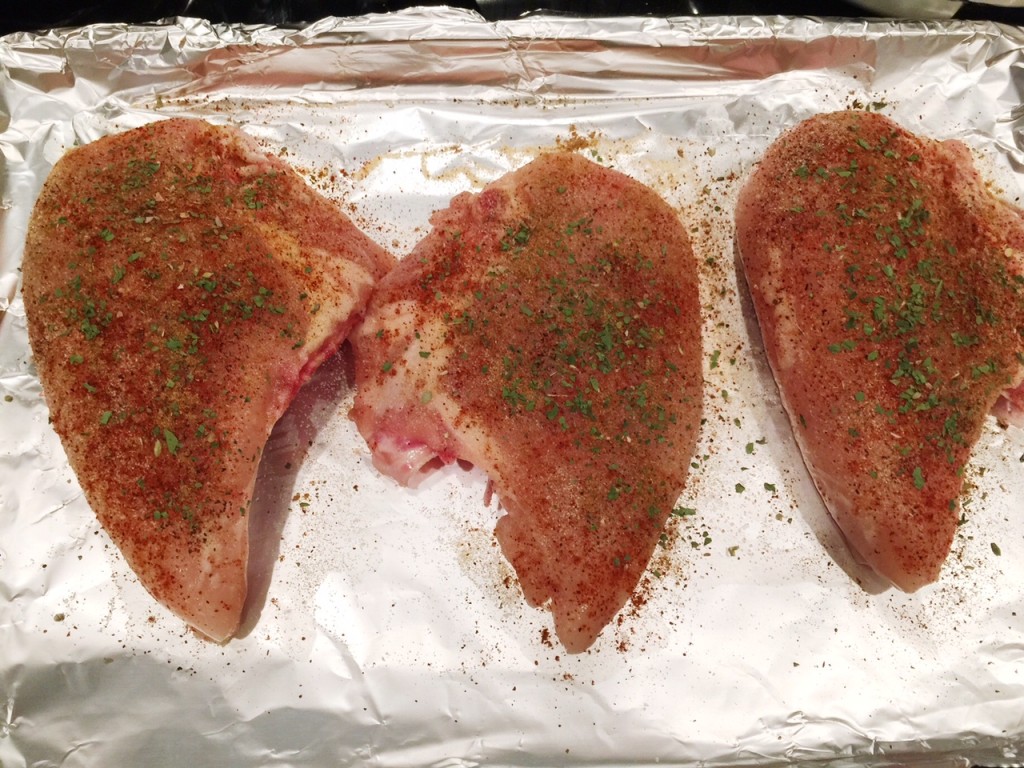 After seasoning the chicken, place into a 400-degree oven to roast for 40 minutes.
As the chicken roasts, prep the other ingredients for the soup. In a large soup pot, add 1 TB EVOO and the garlic, which has been chopped, and sauté for two minutes.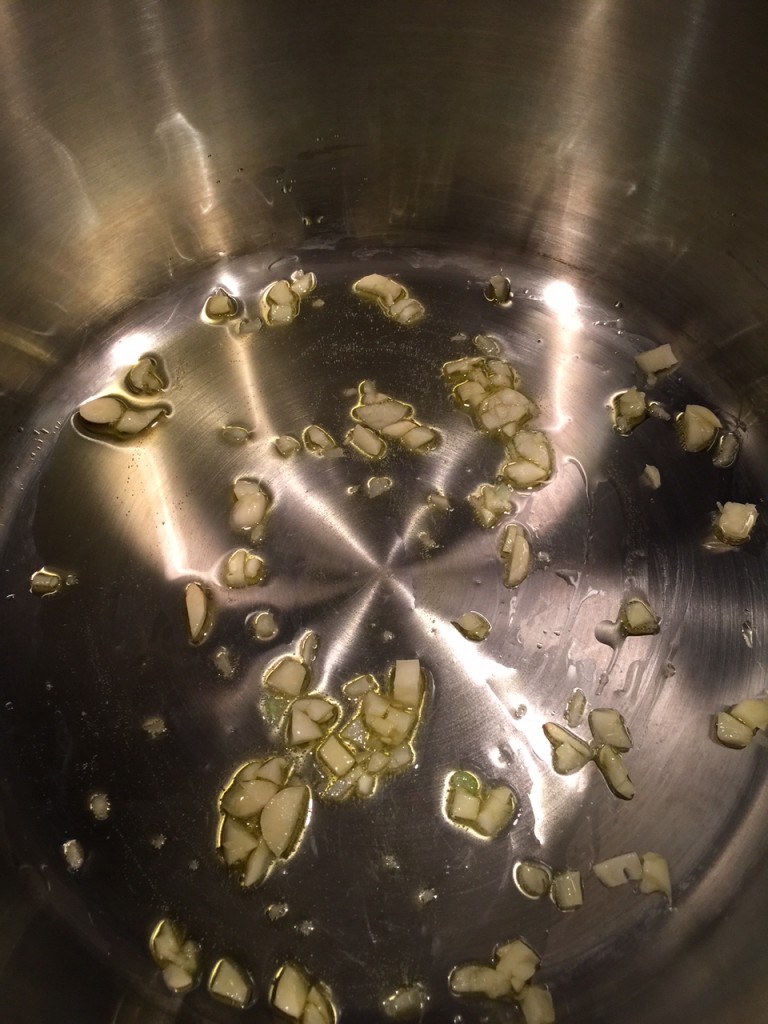 Next, add the green and red peppers and green onion, letting that sauté for three minutes. After that, add the tomatoes, chicken broth and all of the above measured seasonings and lime juice. Stir and adjust the heat to medium high until the soup begins to boil. This should take up to ten minutes.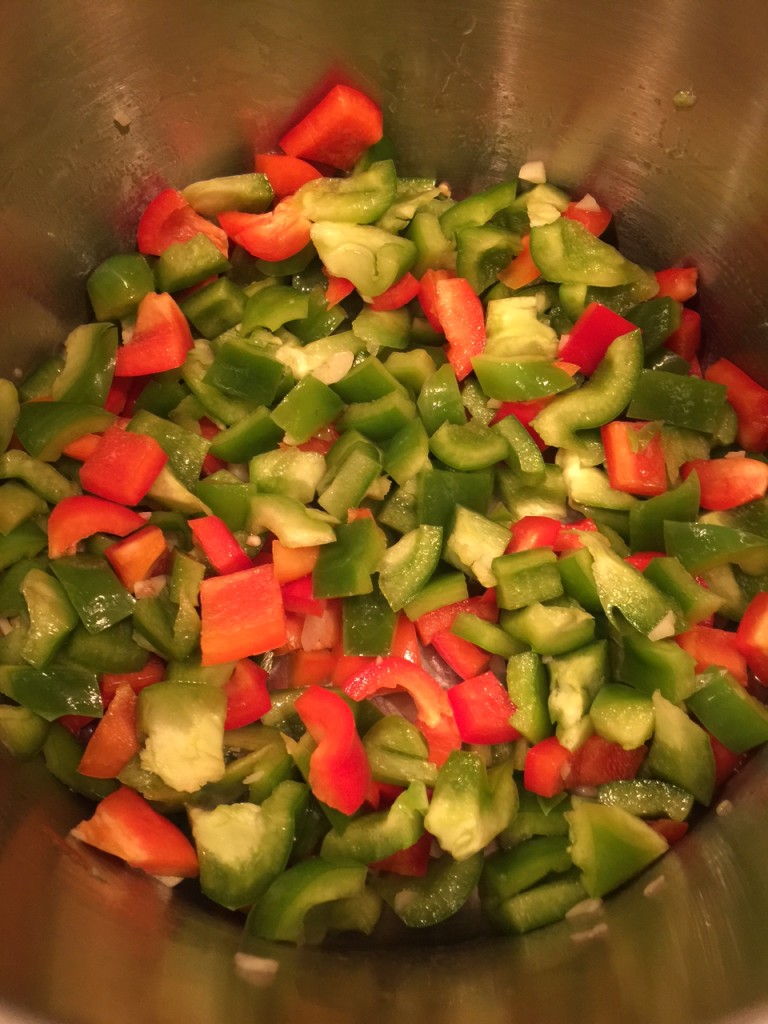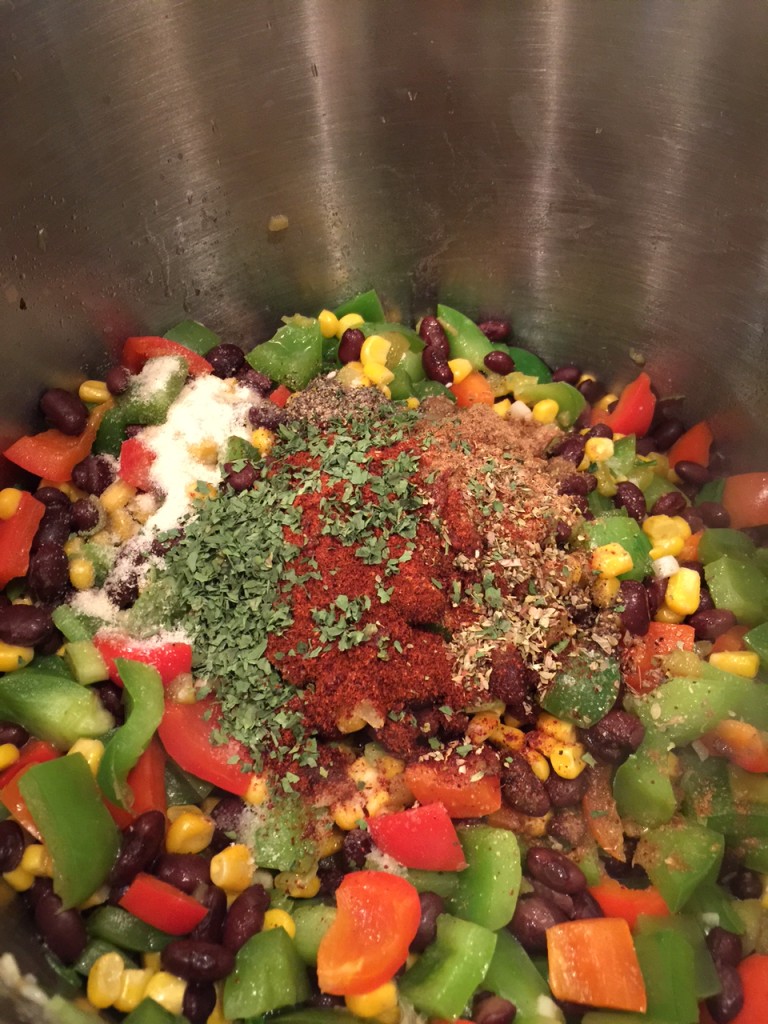 Once the soup comes to a boil, adjust the heat to medium and let it simmer for another 35 minutes before you add the roasted chicken.
When the chicken is done roasting, take it out of the oven and let it cool for 15 minutes before you pull it apart. Letting it sit will not only make it easier to shred, but all of the juices will stay inside the chicken.
Once you are ready to shred the chicken, be sure to avoid including any bones with the chicken you add to the soup.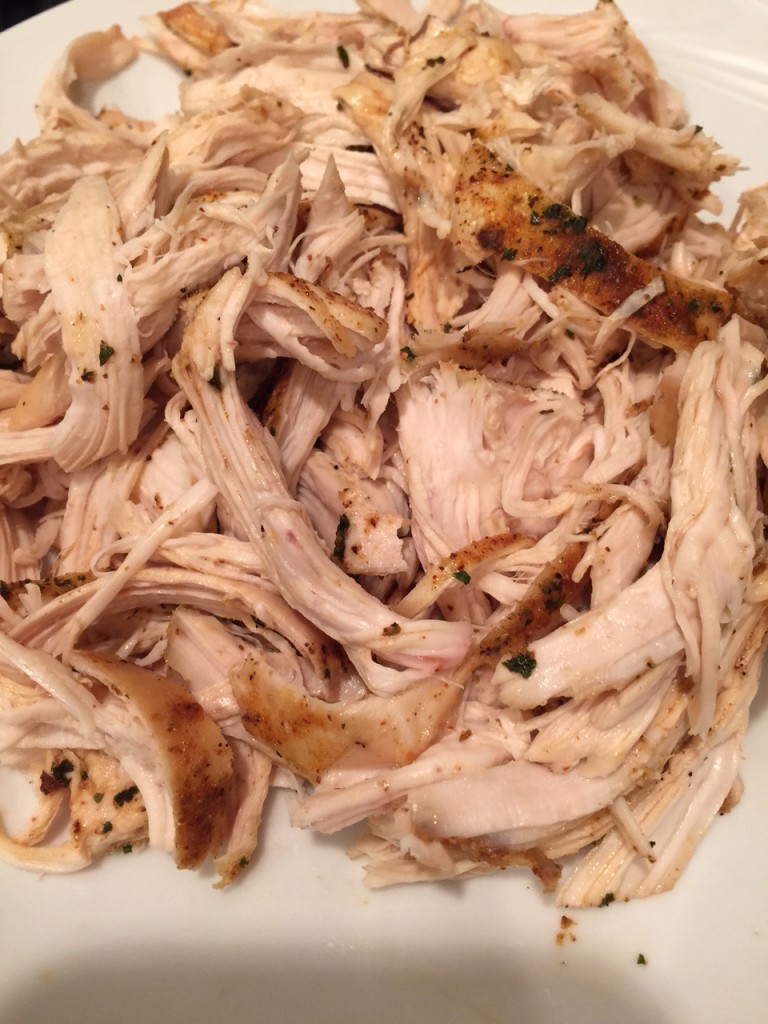 After the chicken is shredded, add it to the soup and let it simmer on medium to low heat for ten minutes.
Now that the soup is ready, serve with any fixings. I served with Monterey jack cheese and fresh green onion. Feel free to also add crispy tortilla chips and sour cream!
Make it into a meal and serve with Mushroom & Spinach Quesadillas!