I was on a quest to make a light, homemade dinner one night. After some thought and creativity, I took my cravings to the kitchen and made an easy peasy Asian inspired chicken soup!
Packed with fresh ingredients, this soup makes the perfect meal and freezes well for quick meals on the go!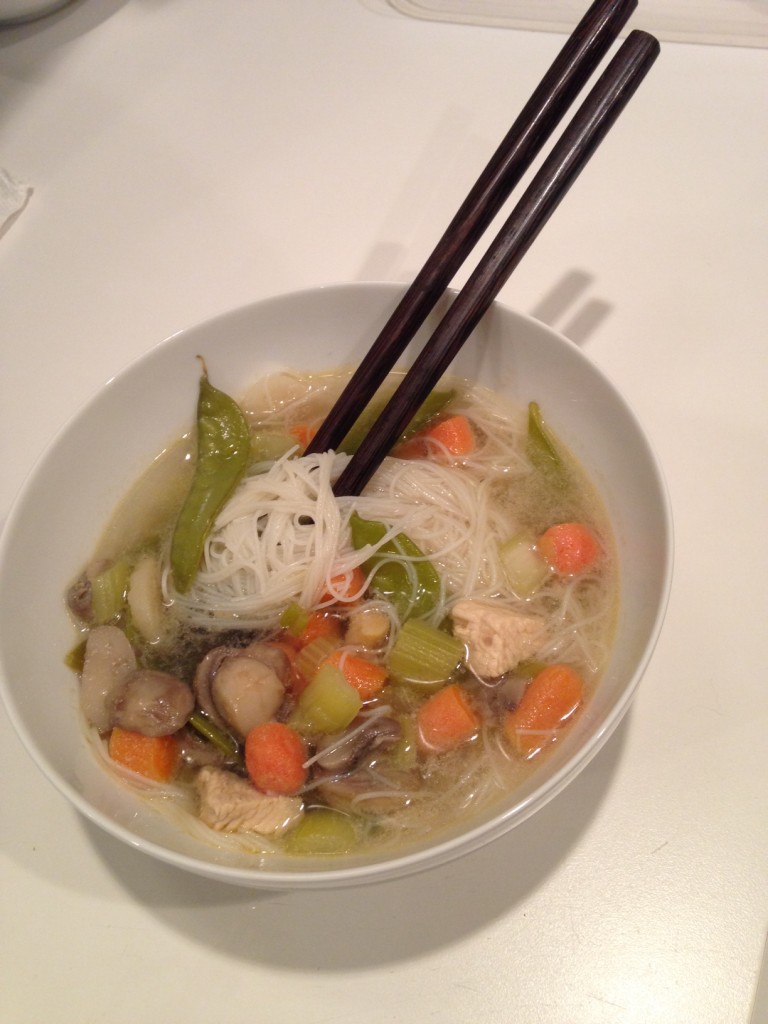 Ingredients: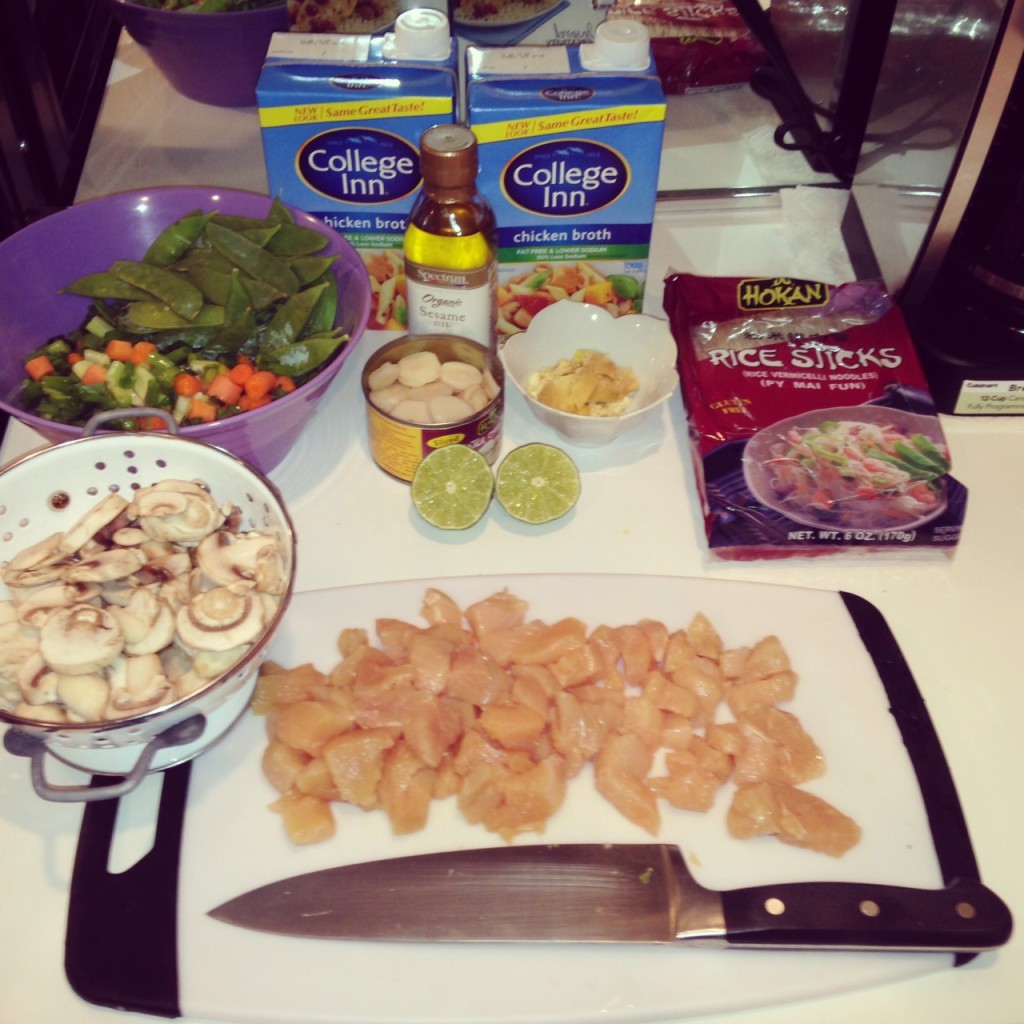 Two 48 oz. cartons of low sodium chicken stock
Two large chicken breasts
Cup of chopped carrots
Cup of chopped celery
1/4 Cup sliced scallions
One package of sliced mushrooms
One can of sliced water chestnuts
One package of snap peas
Sesame oil
One package of Hokan Mai Fun rice noodles
Three cloves of garlic
Three TB of fresh ginger
1 lime
Red Pepper flakes
Directions:
First, prepare the ingredients for the soup. Chop fresh garlic and ginger and set aside in a small bowl for use. Then, slice mushrooms, chop carrots, celery and scallions. For the water chestnuts, drain the can before adding to the soup. Once vegetables are prepped, take chicken breasts and dice into bite-sized cubes.
On medium heat, add sesame oil and sauté garlic, ginger with a sprinkle of red pepper flakes to a large soup pot. The oil will become infused with the flavors from the garlic, ginger and spices. Once garlic becomes soft (do not burn), add the carrots, celery, scallions, snap peas, water chestnuts and mushrooms. Sauté veggies for 5 minutes.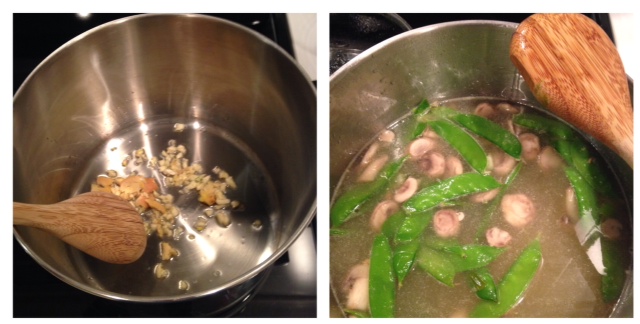 After, add the chicken and allow that to cook in the mixture for 8 minutes. You don't want to cook the chicken through since you will be adding your broth to finish the cooking process.
Then add both cartons of chicken broth and raise heat to medium-high, cover the pot and allow it to come to a boil. Once the soup comes to a boil, reduce heat to medium-low and let sit covered for 25 minutes.
After 25-30 minutes, take your package of noodles and drop into the soup pot. These take 4-6 minutes to cook through.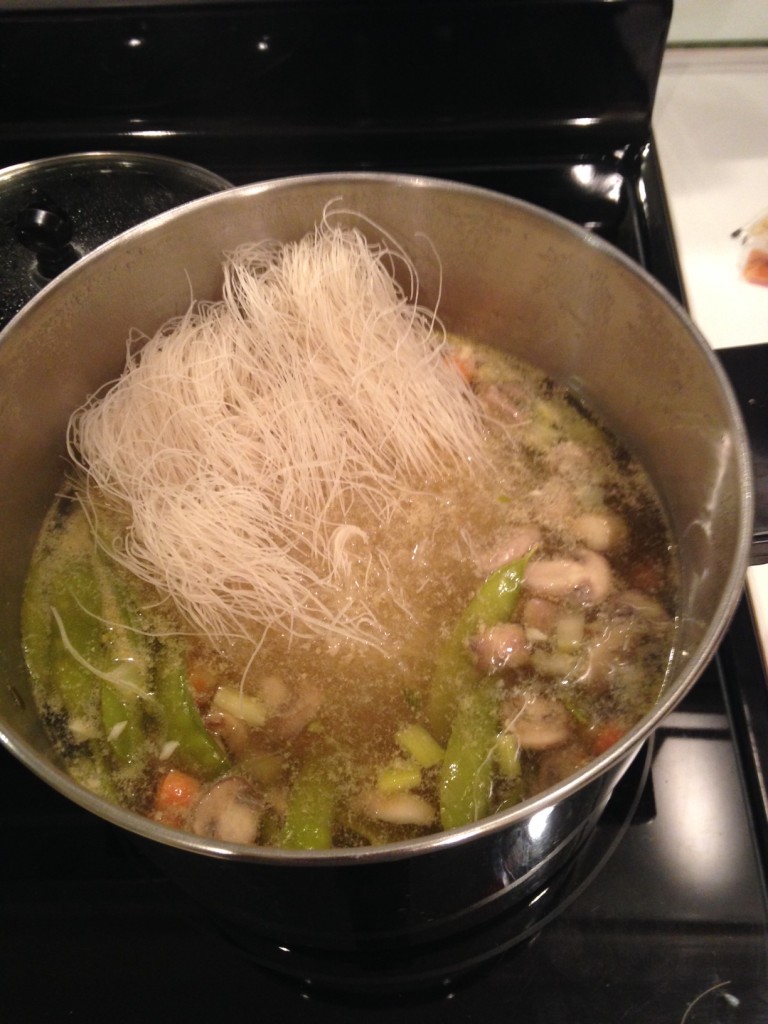 Next get your bowl/spoon/chopsticks and get ready to enjoy and slurp away!